With the Allman Brothers finished and us on musical highs, we decided it was time to replenish our danced out, sung out, and element exposed souls. We returned to the campsite to eat dinner and put up our feet.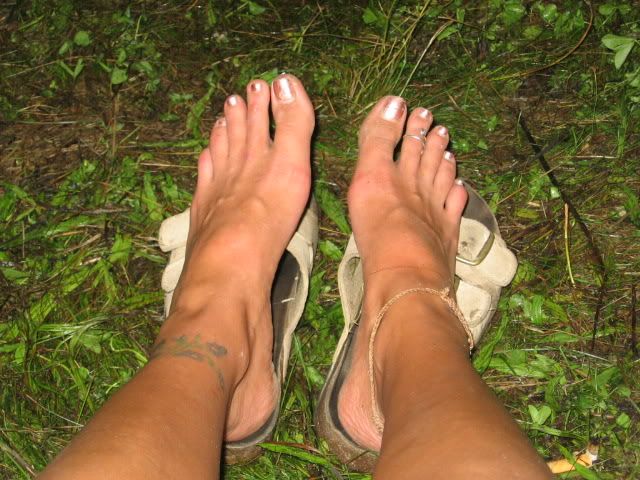 Oh our tired feet and it was only Friday evening! We still had much to do on this first full day of festivities. The Dave Matthews Band was next and the parade would immediately follow. Upon settling at the campsite we were approached by many "walking vendors". Anything we wanted was at our disposal without leaving

home

. We could hear Dave playing from the campsite and it was a great show. We just aren't the biggest Dave Matthews fans so we opted to save our energy and wait for the midnight Galactic's Krewe De Carnivale.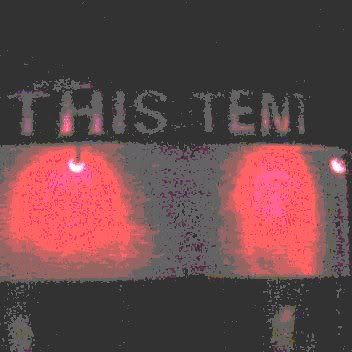 The parade started from the middle section of campsites and continued up to "This Tent" bringing the attendees to Galactic's show. Bo Bice grand-marshalled the parade.Brightly festooned ladies on bicycles, intergalactic creatures, creative floats (complete with bead throwing), a Mardi Grasesque band, fire-eaters, and jugglers completed the parade.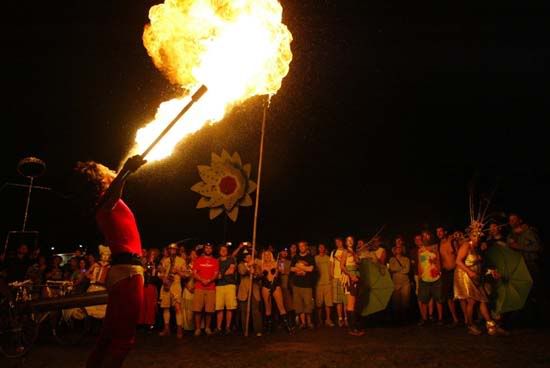 Along the parade route I heard an interesting conversation between two festival goers.
Goer 1:Where does the parade end?
Goer 2:

At This Tent

.
Goer 1: Which tent?
Goer 2: No that's a stage.
Goer 1: What's a stage?
Goer 2: What's a stage, too.
Goer 1: Then where does this damn parade end?
Goer 2: At This Tent.
Goer 1:

You mean here?


Goer 2: Now I'm confused,

thanks a lot bro.

You see there is no Here, there is only Which, What, This, That, and The Other.....I think. Oh hell let's just go see a show.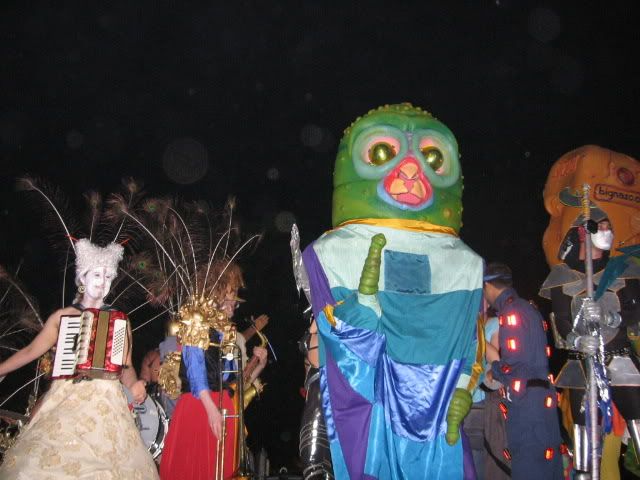 With sufficiently confused and altered fans, it became clear the intentions of the festival planners names for the event sites...WHAT fun, no THIS fun...oh hell, lets just have fun!

The show that followed was a mind-blowing, psychadelic, 3 hour jam Crescent City style. New Orlean's funk filled the air. Our eyelids became heavy around 2 a.m. but we weren't quite sure what time it was. We had changed time zones moving from eastern to central. Don't we gain an hour in central time? I thought so. However everyone we asked had a different time.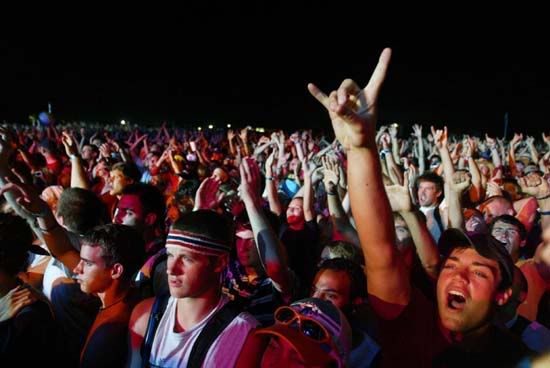 Perhaps we shouldn't have concerned ourselves with what time it was hence the responses we received were maybe meant to just mess with us for being so "oppressed".
We started to notice little stickers on our neighbors that said "One Show At A Time" and then we understood our acclimation to bonnaroo time. Given our lack of clock knowledge we arrived "home" at dark-thirty.

Saturday started beautifully. Blue skies seemed to be the theme until around noon. Then the rains came making a muddy mess of every footpath traveled. Luckily, inside Centeroo, fresh straw was constantly being spread in an attempt to keep the patrons dry. The rain did not deter anyone from having a good time.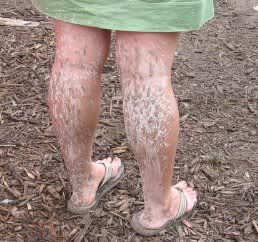 Many found amusement in the mud and many had planned ahead for a situation such as this. Galloshes of every color adorned the feet of these pre-planners. Mud adorned the bodies and feet of those less fortunate.

The line up for Saturday included Gov't Mule, The Black Crowes, Yonder Mountain String Band, Jack Johnson, Mouse on Mars, Keller Williams, Widespread Panic, Trey Anastasio, De La Soul, and many many more. We had found a way to beat the fates of "one show at a time". I had planned to see my friend Oceana Gayden's band Zenphonic play at

Jack's Cafe

. It just so happened the tent was situated in such a way we could look to our left and view the show on the What Stage. Gov't Mule played during Oceana's set.

If you've never heard Zenphonic they are well worth a listen. Oceana is a talented singer/songwriter and is accompanied by her brother(guitar) and by her father Mac Gayden, inventor of the slide-wah guitar technique. He is famous for writing such songs as "Everlasting Love" and playing with Barefoot Jerry and Skyboat.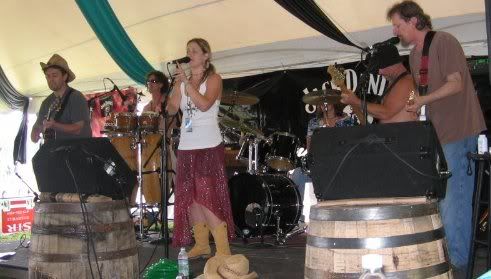 They have one of the most talented percussionists in the south, John Whitlock, as well as a second drummer (sorry I don't remember his name). Oceana did a rendition of "The Letter" that had everyone on their feet. The chick is way kind, too!

We stepped out of the cafe in time to see Warren Haynes' band Gov't Mule finish their set. We hung around people watching again and saw the beginnings of The Black Crowes show.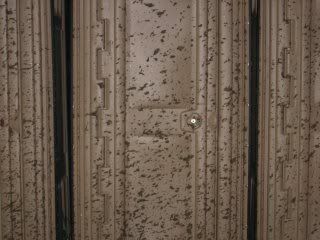 We had to save up the energy for Widespread Panic and Trey Anastasio. We had a long night to go. We needed to refuel. We walked around the tent city vendors again and found some delicious Chinese food. Sufficiently fed we wandered back to our campsite through the mud and bodies.

People were already beginning to pass out along the roadways.

Widespread Panic began at 8:30. We made our way up and found a spot. Glowing hula-hoops and dancing phospherescent giant marionettes littered the crowd. Glow sticks and beach balls flew through the air.
Dancers danced and stoners stoned. Everywhere we turned there were smiling faces. We met a group from Florida whom had never attended a Bonnaroo. With their preppy clothing and slack-jawed faces we could tell they were out of their element.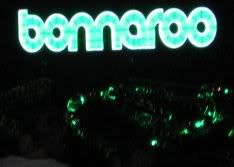 There weren't many like them, but the ones that were seemed lost but learning. The ways of the jam band tend to soften even the most hardened of hearts. Trey Anastasio was up next. The former Phish guitarist had the show of shows. Joining him onstage was the Hassidic Jewish reggae/rap phenomena, Matisyahu. I was as jazzed about seeing Matisyahu's show on Sunday as much as I was anyone else, so the Saturday night appearance made my day. We retired late,but excited about what Sunday had in store.

We awoke Sunday morning to the left over winds of a tropical storm. Tents, tarps, and canopys were flying. The roads were so muddy tractors were already beginning to pull people out one at a time. Some brave souls were attempting to take running passes at the swamps only to dig in deep and jam the roads for others. We decided to pack up and do our best to get to day parking. If the winds were any indication of the weather to come it was only going to get muddier. We found a less travelled path and made our way. Without the help of a tractor we were able to snake our way out of the campsite and onto the main road. "Dollar beers, t-shirts, pancakes for a dollar!" was the sounds we heard. Barkers trying to make one more dollar lined the street. We found the day parking but we also found a mother coyote wandering the street. Even the true scavengers were friendly this day. She looked our way and retreated back into the woods.

We arrived at This Tent about thirty minutes early.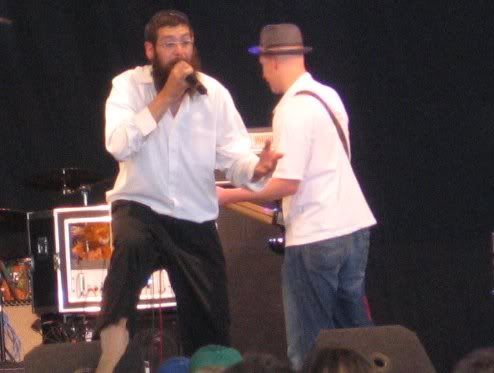 The crew was taking down large hanging photos of the bands that had played there at past Bonnaroos. The tent was roped off so no one could enter. When they were finished the ropes were cast aside and the people piled in. We obtained great seats in front of the sound board. Matisyahu took the stage. This man was filled with so much energy he drew a crowd larger than any I had seen at the other tents (not the stages but the tents). Even though I'm not Jewish, I felt as if I were being taken to church, or synagogue as the case may be. God was definately there though.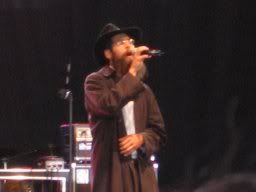 "Chop 'em Down" had the crowd on it's feet. "King Without a Crown" had not a still body amongst us. His beat box left us stunned and his sincerity left us humbled. Light filled the tent even though the day was overcast. We must see him again. The link above is straight to his video on his website. Just pick the bandwidth and watch in amazement.

Ratdog was calling. We again poured into the What stage with the sea of people to see Bob Weir and his band of jam. We moved to the nostalgic sounds of The Grateful Dead and sang along with every song.
The sun broke through the clouds during "Sugar Magnolia" as if God were smiling upon us saying "You are blessed today." All good things must come to an end and this would be our finale. We wanted to get on the road before the other 100,000 people decided to do the same. We had responsibilities we had been given the opportunity to shed for a few days that we had to return to. We readorned our watches and headed for home.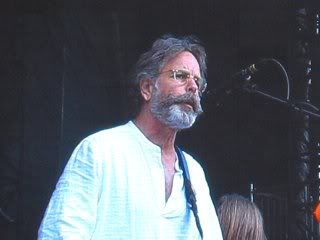 Bonnaroo is truly a blessing. So many people, so many shows, so much to do, and yet there never seemed to be an argument, a hassle, or a fight. Beautiful people beget beautiful times. This was the most beautiful of all.

There was so much to do we couldn't see and do it all. Many things I feel I have left out but this is going to have to do. I will post tomorrow on the "Do's and Don'ts" of this glorious event and I may post another comical anecdote or two. Until then remember: If anyone asks you where you are going, just say "Further."