After days of walking, mud, good music, and strange happenings, we are back from Bonnaroo and sufficiently recuperated enough to update everyone on the event. Never before have I seen so many people in one place at one time. Words cannot describe the scene. My husband brought to mind and old saying "If I have to explain it you wouldn't understand." That being said, I will do my best to outline the magical atmosphere that is Bonnaroo.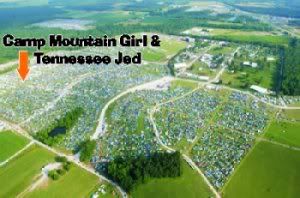 We arrived Thursday afternoon at 5:30 to the massive traffic jam outside of the venue. We took our own route down, traveling highway 70 to highway 55. It took us until 8:00 to get to our camping spot. There we set up our canopy, unpacked our coolers and set off for a walk. Already things were abuzz. Vendors lined the streets of each camping section (93 sections in all each at least as large as a football field).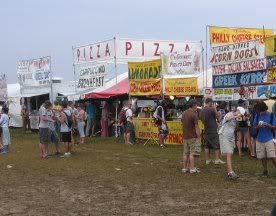 The vendors were selling everything from grilled cheese to shoes. There were vendors with clothing, vendors selling mixed drinks, vendors selling pipes, vendors selling stickers, bootleg shirts, hats and bandanas. It was sheer decadence. Anything you wanted was at your disposal...immediately. The cost of items outside of centeroo was reasonable ($1 beer, $2 shots, $3 sandwiches). The moment you stepped inside Centeroo, the prices soared ($5 beer, no shots, $6 sandwiches). We found it more cost effective to step out into the churning world of tent city to buy what we needed and take our chances getting it through Centeroo security. We ended Thursday full of excitement over the next days shows. We chatted with our neighbors and enjoyed a long nap.
Friday morning we awoke to "naked guy" flying a kite outside of our canopy. "Get it up, naked guy!" my husband exclaimed as the man ran past searching for the wind. After consuming our morning sustenance of eggs and coffee, visiting with more neighbors, and people watching, we took off for Alison Krauss.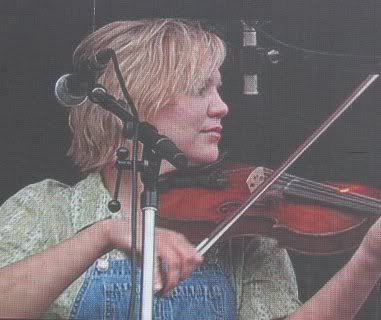 Alison sings so sweetly you can fall in love at first note. Jerry Douglas,Barry Bales Ron Block, and Dan Tyminiski make up the equally impressing rest of Union Station. They carried the crowd on an early afternoon journey of hertfelt bluegrass and mood setting melody. The groggy morning ensemble awakened and began to move. As quickly as the music started, the sun peaked out to reveal a beautiful and cumulus blue sky. All was right with the world. The show peaked with the rendetion of "Man of Constant Sorrow". A crowd of 40 or so thousand moved like the sea. No one could be still.

The Allman Brothers were next. We walked the village seeing what we could not afford but really didn't want considering what was available outside Centeroo. After a short walk and sightseeing we returned to the What Stage. The crowd was massive.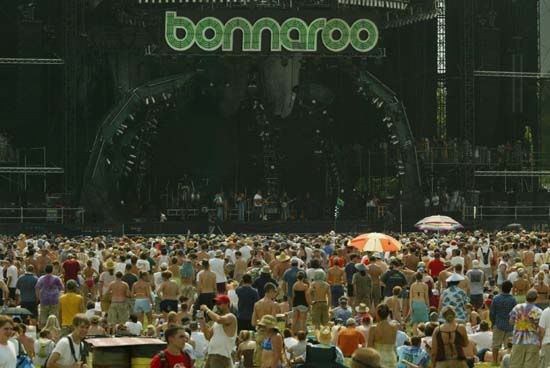 We went in search of the chair we left to mark our spot and could not push our way close enough. The laws of physics still seemed to apply in this human sea. Too many bodies too little space. We had to stop about six rows from where we sat for Alison Krauss. We spread our poncho and had a seat...but not for long. A roar as loud as Niagra Falls erupted and the crowd was on it's feet. The music began and again the sea undulated.
This time we moved to the soulful, Whirlitzer sounds of Greg Allman, and the dueling six-strings of Derek Trucks and Warren Haynes, "bassed" on Oteil Burbridge, and three drummers. The pinnacle of the show was a stunning rendition of "Jessica" summoning the crowd to frenzy with at least 6 diffent peaks and valleys. The show hit a second climax when Jerry Douglas, world renowned pedal-steel player and current member of Union Station, joined the band for a short time. Age has not tarnished this band. They played with the zealousness of youth and the wisdom of aged sages. Two hours later it appeared they were finished. The crowd cheered and began to chant, "Whipping Post!" "Whipping Post!". Again a roar erupted as the band filed again onto the stage. "Whipping Post" it was. We were thrown yet again into frenzy and awe. It was a beautiful thing.

As I write this I'm almost weeping. Life is good. I'm going to find a way to post some pictures today and I will finish writing about the rest of the weekend in tomorrow's post. I must go put up some pictures!!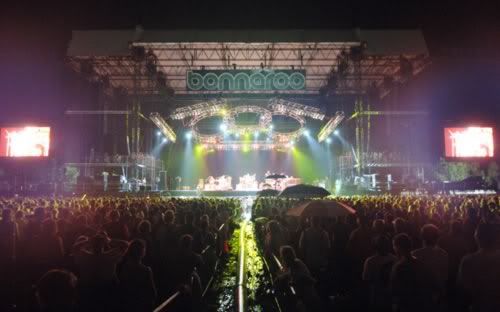 The What Stage
Artist At Work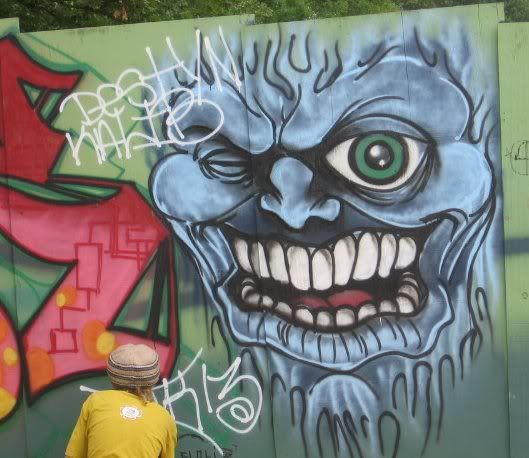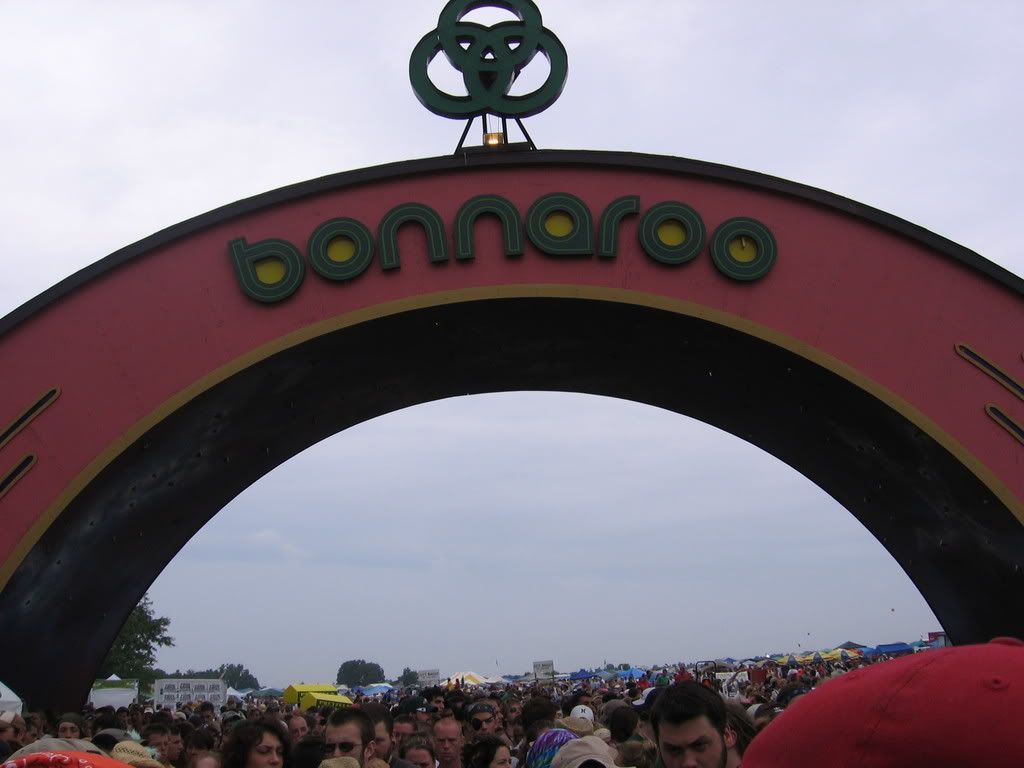 Centeroo Entrance
Triclops Walking